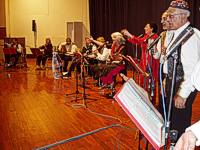 University of Hyderabad

Capacity crowd at University of Hyderabad

Dr Shubha Chaudhuri with Dr Sara Manasseh at Delhi reception

After Delhi concert

Flight to Kolkata (Calcutta)

David Nahoum's bakery, Kolkata

Bouquet to Sara Manasseh and group from Nahoum and sons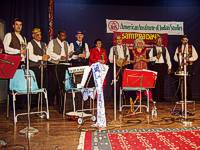 Music Academy - Chennai

Enthusiastic crowd - Bangalore

Symbiosis, Pune (Puna)

En route to Mumbai (Bombay) performance

After concert Patkar Hall, Mumbai

Reception Synagogue Chambers Mumbai
A) Following concert at University of Hyderabad:
Dear Madam, I was overjoyed to hear your performance today. A standing ovation was quite not enough to let you know how wonderful the performance was. I was overjoyed and moved. I was touched by the enthusiasm and involvement and the lovely music that took over me through those cherished 2 hours. Thank you for those lovely moments. May God bless you and your team.
May all of you be blessed abundantly,
L.T. (Hyderabad)

B) Following the concert at Chennai (member of the audience):
... I loved your presentation, singing and sense of humour and singing

C)...my children sat so quietly and listened! They loved "Sinai sinai" and still sing it!


D)... we loved your programme and didn't want you to stop

E) Dear Sara, kilililililili!
I was in the audience at Vishwabhawan auditorium, Symbiosis (Pune). I want to congratulate you and all your teammates for a wonderful performance.I really enjoyed your "Rivers of Babylon" program.
I thank you for introducing music in the Iraqi-Jewish trdition to me. I liked the way you conducted the whole program which includes...
1.Very enthusiastic and positive approach towards the group and audience.
2.your talk was very precise.
3.All the performers were smiling and enjoying so was I.
Hey! last but not the least I still remember your sinai sinai..ayyeh mosheh?
I wish you all the best for your Mumbai show.
keep in touch.
S.B (Pune)(ref.music- multilingual singer).
Keep mailing..keep smiling...kilililili....
S.B (Pune)

F) Dear Sara, We enjoyed your concert in Mumbai
(Bombay) -- we especially enjoyed the Marathi songs. I must say the pronounciation was very good.
We are not only proud to be Jews but we are also proud of being Indian -- India has been the most hospitable diaspora in world.
We would like to meet you again.
S.& D.K (Mumbai)


G) ...thanks for that wonderful evening.
S.B. (Pune)


H) ...we had the pleasure of attending the show of the Rivers of Babylon and enjoyed the music they played. We wish them all the best and may they go from strength to strength.
J.P. (Pune)


I) Hello. I was at your performance in Kolkata (Calcutta). I was very interested in the lecture and the music.
M. (Kolkata)


J) Since I was leading a group to Jewish sites in India, I was unable to leave the group. However, 2 members of our party slipped away to hear your concert which they enjoyed greatly.
K.R. (Pune/USA)


K) Dear Sara, It was a pleasure to meet you in Delhi, though, sadly, I was not able to see your performance. I left for Bangalore on the day of your performance in Delhi, and I was still in Bangalore when you were performing in my home-city of Calcutta. I hear that the performances were really good.
J.B. (Kolkata)


L) At a special reception for Rivers of Babylon in Mumbai:
What I saw ­ and all those present ­ heard, made us so emotional ... It was really wonderful to think of all the old times of those beautiful songs, those beautiful shbahoth, those beautiful sba'ten by Saeed... Sara was excellent, and the entire group ... no words can explain my feelings for that great evening. I couldn't sleep that night...
You know ­ I am a racing man ­ I have the good fortune to be one of the luckiest owners. ... I had a horse called King of Babylon ... then another, Prince of Babylon...
Now, after seeing such a beautiful set of players whose songs are chiming in my ears and in my head all the night...I'm going to call my next horse, Rivers of Babylon!